Oven-Baked Crispy Zucchini Rounds
Marlene.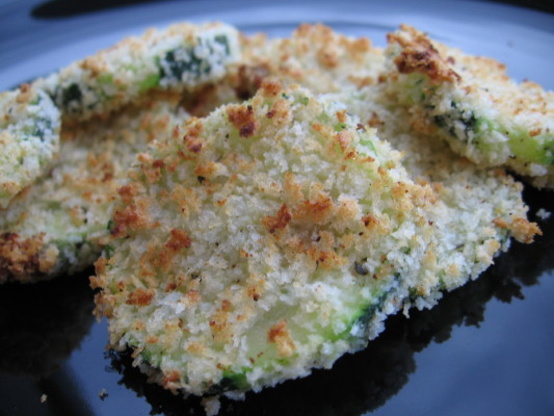 You can use regular dry breadcrumbs in place of the panko! This is a great recipe to use up all your garden zucchini, these are very habit-forming lol! I like to sprinkle some finely grated cheddar or mozzarella cheese over the slices as soon as they come out of the oven YUMMMMM!

I was disappointed in these zuchinni rounds. I used a whole egg rather than 2 whites and didn't sprinkle with cheddar cheese. I had some that were too salty and some that didn't have much flavor at all. Some were a little green on the inside too. Won't be trying these again.
Set oven to 450 degrees (yes 450 degrees, or even a little higher if possible, this will create a crispy crust!).
In a bowl mix together the panko bread crumbs with seasoned salt, black pepper, garlic powder, cayenne (if using) and Parmesan cheese.
Place the egg whites into a shallow bowl.
Dip the zucchini slices into the egg whites (letting any excess egg whites drip off).
Coat the slices in the panko mixture (use fingers to firmly adhear the mixture to the slices if necessary).
Place on a greased baking sheet.
Bake for about 5-6 minutes; turn over and continue to bake for another 6-9 minutes, or until browned and crispy.
As soon as the slices come out of the oven sprinkle with finely grated cheddar cheese if desired.
Delicious!