Oven-Baked Cranberry & Raspberry Sauce
jenne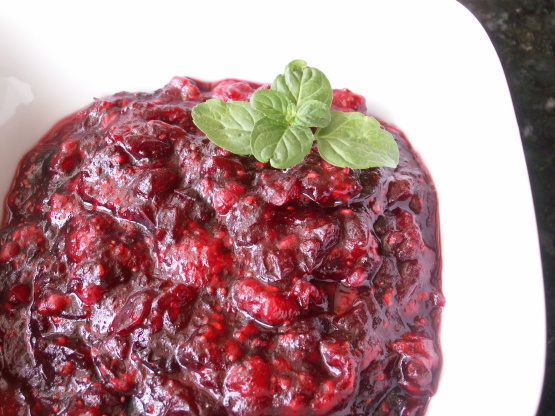 Don't wait for the holidays to try this one! Tart & sweet at the same time, looks beautiful on the table. The oven works while you go play! Original recipe came from "Hobby Farms" magazine.

This was yummy! My kids loved it! Im making it again for Christmas!!!!
Preheat oven to 350.
Spread cranberries in a 13x9 GLASS baking pan; sprinkle with one cup sugar and stir to coat all the berries.
Bake until mixture is hot and bubbly (berries will pop)--about 40 minutes. STIR TWICE DURING BAKING TIME!
Gently stir in the raspberries; sprinkle with remaining sugar and liqueur, stir again.
Pour mixture into a serving dish; cover and chill until set.
**NOTE**the Grand Marnier can be substituted with orange juice.