Oven Baked Bar-B-Qued Ribs
Bergy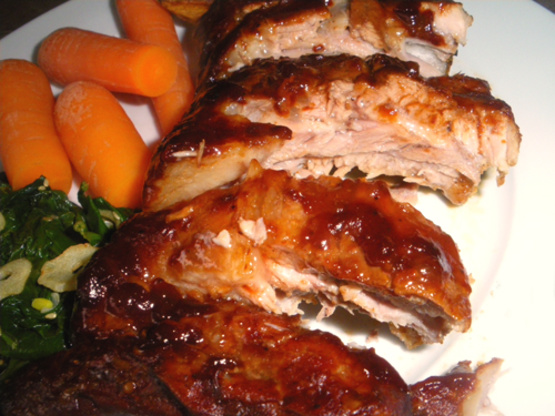 Very easy recipe since you can use your favorite bottled sauce. This is a Pampered Chef recipe that I "tweaked" to our liking. I use the PC deep dish baker with the baking bowl as the cover. But I'm sure that a covered roasting pan or tightly covered metal baking pan would work fine.

Grilled ribs are still the best, but when there is torrential rain, you need an alternative. These turned out really tender, juicy and fall off the bone. The second time I made them, I thinned the bbq sauce and dipped the ribs in to coat more evenly, and then poured over the remainder. What is particularly great is that this requires very little hands-on time, a plus on a busy day. I used a baking pan with foil cover, worked just fine.
Preheat oven to 450°F.
Cut ribs into serving size pieces (2 to 3 ribs).
Place ribs in 9x13-inch pan and pour beer over top.
Cover tightly and bake 1 hour 30 minutes.
Remove ribs from oven and transfer to a platter.
Drain grease and beer from pan.
Place ribs back in pan and coat with sauce (as little or as much as you like) cover again tightly.
Reduce oven temperature to 250°F.
Bake additional 45 minutes.
After cooking at a high temperature you may think that you have burned up your ribs, but after baking again at low temp with the sauce you will see how tender and juicy they turn out to be!