Oven Asparagus With Orange Zest and Garlic
loof751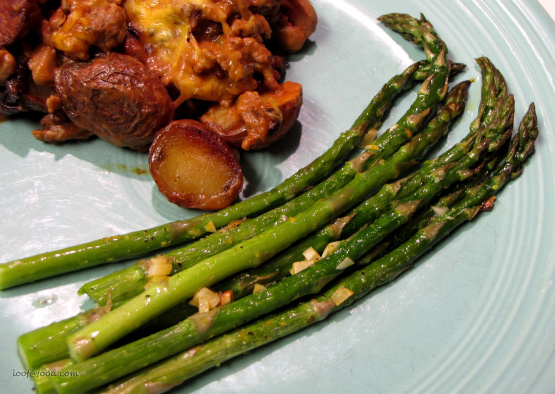 I like to do the asparagus in the oven, as it takes no watching and i can avoid overcooking it more easily. I like to do this for weekend brunch with Bacon and Cheese Omelet (also an oven preparation) by ellie2 (#102568) and i throw in some of the potatoes i keep available frozen from my own recipe Herb Roasted Potatoes (#30210) Makes a pretty breakfast, too.

Great recipe! Mine took just 10 minutes in my convection oven. Great flavors. I did not add any salt, though, and I don't think it was missed. Was a nice addition to our Easter dinner.
Preheat oven to 400 degrees.
Spray a baking dish, or use non-stick.
lay asparagus on dish.
drizzle olive oil over it all.
sprinkle with garlic,orange zest pepper& lite salt.
roll the asparagus around to coat.
Bake@ 400 for about 10-15 minutes.
**irecently saw Bergy's Asparagus, Oven Roasted (#11040).
and will be cutting down the time when i make this next-i may still have been cooking it too long.