Outstanding Oatmeal Bread for Bread Machine
Sageca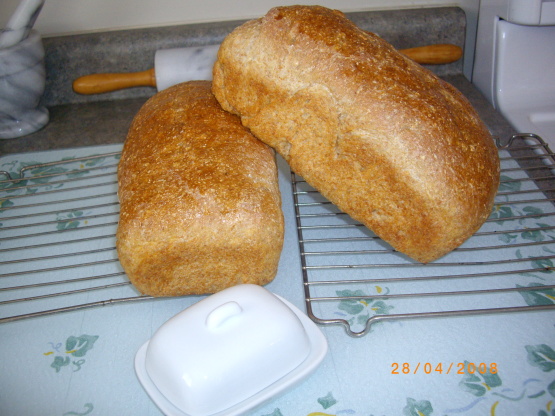 Really really good bread right out of you bread machine.Crunchy!!! I have been using the bread machine and baking it in the oven with great success. Try 1/2 white and 1/2 whole wheat flour for and even better flavour.

I just got a bread machine and this was the second recipe I've tried. My daughter specially requested Oatmeal bread, so I tried this recipe and it turned out beautifully. I used old-fashioned oats and used the rapid cycle. This made a nice tall tasty loaf. Thanks for posting this!
Add the water,butter,honey in the bread machine.
Add dry milk, salt and flour.
Add yeast in a groove on top of the flour.
You can make the bread on the White bread cycle or on the Dough cycle.
When the Beep comes on; add Oatmeal.
If you chose the dough cycle remove and shape into one loaf or 2 smaller ones.
Sprinkle a bit of oatmeal on top.
Preheat oven 375*.
Let rise app 40 minutes.
Lower heat to 350* and bake at app 30 minutes.
Optional; use 1/2 whole wheat flour.
SUCCESS HINTS: For added texture, add the oats after the first knead or at the beep on the fruit and nut cycle.
For additional crunch, sprinkle a few oats on top of the loaf after the final rise.
When you are baking it in the machine and you see it rising to the top while it is baking, use a needle to make a few tiny holes to punch it slowly down and it avoids having it ruin the top of the bread.
Instant oatmeal doesn't work, but quick-cooking oats do.