Chilicat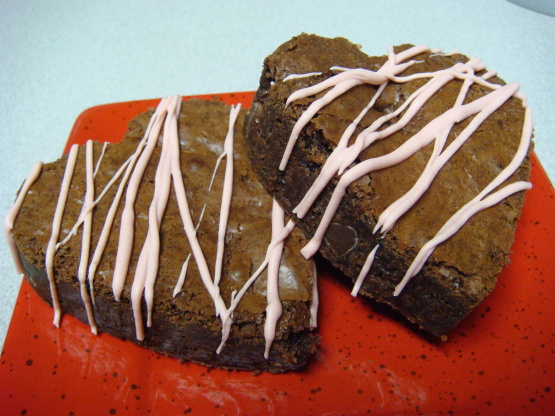 These are from the Barefoot Contessa by Ina Garten and they are outrageously good--the best brownie I've ever had.

This is the best brownie recipe ever!! You'll never try another brownie recipe after making these! Here are a few tips: For a dark chocolate lovers, use Ghiradelli Double Dark/60% or bittersweet chocolate in place of the semi-sweet chocolate. I often use 1 lb of bittersweet chocolate to melt, and 1 to 1 1/2 packages of dark chocolate chips folded into the batter. Get out your kitchen scale and weigh your chocolate for best results. While I love dark chocolate, after making these a dozen times, I've discovered that using a good quality semi-sweet chocolate, as directed, yields a crowd-pleasing result (for those who may not love dark chocolate as much). They are surprisingly rich with the semi-sweet chocolate, too!

Don't hesitate to melt chocolates and butter in the microwave, checking and stirring every minute (usually takes 3 minutes).

Another helpful tip is to line the pan with parchment paper so that there's a 1"-2" overhang. When the brownies have baked and COMPLETELY cooled, you can then carefully lift the whole batch out of the pan and onto a cutting board. Refrigerate and cut when cold if you like uniform squares. Otherwise, these moist brownies will look like brownie heaps. Another treat is to trim the edges off the batch and store these bits in a ziplock bag in the freezer - perfect for a quick fix or for ice cream toppings!

Enjoy and be sure sure to spring for the good stuff: fresh butter, fresh walnuts, high-quality chocolate. A batch might set you back $20, but you'll soon be having people wanting to pay you to make them. LOL.
Preheat oven to 350°.
Butter and flour a 12x18x1-inch baking sheet.
Melt together the butter, 1 lb. of the chips, and the unsweetened chocolate in a medium bowl over simmering water.
Allow to cool slightly.
In a large bowl, stir (do not beat) together the eggs, coffee granules, vanilla, and sugar.
Stir the warm chocolate mixture into the egg mixture and allow to cool to room temperature.
In a medium bowl, sift together 1 cup of flour, the baking powder, and salt.
Add to the cooled chocolate mixture.
Toss the walnuts and 12 oz of chips in a medium bowl with 1/4 c flour, then add them to the chocolate batter.
Pour into the baking sheet.
Bake for 20 minutes, then rap the baking sheet against the oven shelf to force the air to escape from between the pan and dough.
Bake for about 15 minutes, until a toothpick comes out clean.
Do not over bake!
Allow to cool thoroughly, refrigerate, and cut into squares.
Ina's notes: Flouring the chips and walnuts keeps them from sinking to the bottom.
It is very important to allow the batter to cool well before adding the chips, or the chips will melt and ruin the brownies.
This recipe can be baked up to a week in advance, wrapped in plastic and refrigerated.