Prep 15 mins
Cook 10 mins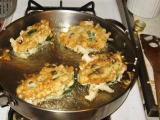 This is an easy way to modify salsa into something just a bit better and it's a different dish to put on the coffee table during the Superbowl too. It's from a newspaper clipping.
Directions
Pour the lemon juice into a bowl and mash up the avocado pulp into it.
Spread this in the bottom of a 7x11-inch casserole dish.
Drain the salsa in a colander and then mix it with the sour cream. Spread this over the avocado layer.
Sprinkle the top with the tomatoes, cheese, scallions and olives.
Refrigerate for up to a day in advance (covered with cling wrap) and serve cold with tortilla chips.
Most Helpful
This dip had a nice flavor and was very easy to assemble. Madeas written. Thanks Bone Man. Bullwinkle
Very good! I couldn't bring myself to drain the salsa and it wasn't runny, but it did slosh slightly in the car on the way to our friends' home. I didn't have onions but I wanted some green on top so I added some shredded lettuce, and jalapenos. It looked so nice, was easy to make, and everyone loved it. Thanks!
A second to the review by Twissis. The guests loved it & I was particularly fond of the half w/o black olives (she cropped the pic to hide that fact ;-) It actually keeps very well and we snacked on it the next day. Thanks for sharing the recipe & thanks to Twissis for making it!