Outback Steakhouse's Alice Springs Chicken
zwebb17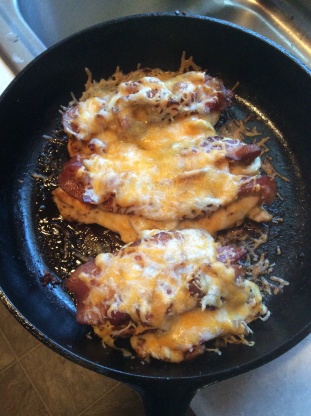 Serious comfort food from your own kitchen. You don't have to leave the house to get the food you want. I know when went to Outback, this is what I always ordered. Now, why bother. Its easy to put together. Sometimes I don't even bother marinating the chicken and its just as good. No gratuity please. Save your money and fill your tummy. Prep time excludes marinating time.

Wow, this was a BIG hit! It certainly competes well with the real Alice Springs Chicken - Great job Bay Laurel!! The only thing I will be doing differently next time is to slightly pre-fry the bacon prior to placing it on top of the chicken. We weren't fond of the limpness of the bacon. I tried broiling it towards the end for several minutes, hoping that it would crisp up the bacon a little, but the bacon remaind the same and the cheese crisped instead. Otherwise it was very tasty! Mmm Mmmm... I served it with Recipe #356174 and Recipe #10733. Made for PAC Spring 2009 :)
Pour about 1/4-1/2 of honey mustard in a bowl and add the chicken.
Set in the refrigerator to marinate for 2 hours or, better yet, overnight.
Save remaining honey mustard in a sealed container in 'fridge to use as a dipping sauce later.
Preheat oven to 375 F
Heat up the oil in a frying pan on the stove and sear each chicken breast 3-4 minutes per side until golden brown.
Transfer chicken to oven safe pan and brush with honey mustard.
Salt and pepper breasts.
Add butter to frying pan and saute mushrooms.
Stack bacon across each breast, spoon mushrooms on each breast and then approx ½ cup of cheese on each.
Cover pan with foil or lid and bake 7-10 minutes to melt cheese. Dust with paprika and serve with honey mustard.