Outback Steakhouse Walkabout Onion Soup
Catnip46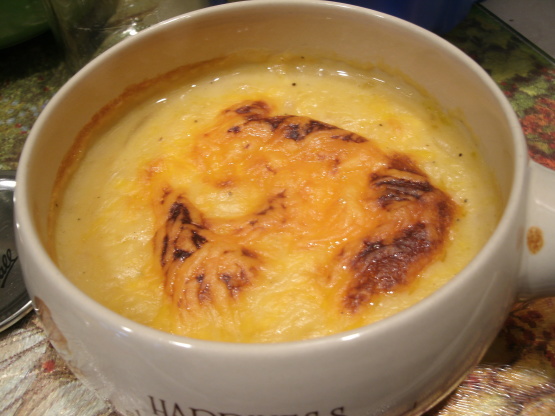 This is a nice delightful soup that is easy to prepare. I personally like to use the 1015's sweet mild onions when they are in season.

THANK YOU THANK YOU THANK YOU THANK YOU THANK YOU!!!!!!! When we go to Outback Steakhouse, I always order this soup. It's the best I've had ever. I never thought I would find a recipe to make it!! We just finished making t is EXACTLLY the same as the walkabout soup at Outback! I would like to say to anyone making this, follow the directions when it comes to the white sauce. I raised the recipe up to 6 servings. After adding the whole milk slowly, it took about 10 minutes to become a pudding consistency. So don't get impatient with it, it WILL thicken :) We are just ecstatic right now on how great this turned out! Again, Thank you Thank you Thank you!!
In 2 quart sauce pan place 3 tablespoons butter and sliced onions.
Cook at low to medium heat stirring frequently until soft and clear but not brown.
Add chicken broth from can, chicken bouillon cubes, salt, pepper, and stir until completely heated through.
Add white sauce and Velveeta cheese. White sauce will be thick because it has been removed from the heat. Simmer on medium low heat until the cheese is melted and all ingredients are blended, stirring constantly.
Turn temperature to warm and let cook for additional 30 to 45 minutes.
Serve with a garnish of shredded cheddar cheese, and a couple of slices of warm dark Russian Bread.
Thick White Sauce:.
In a 1 quart sauce pan melt butter and add flour, cook on medium heat until the flour turns thick and comes away from the sides of the sauce pan.
Pour milk in flour a little at a time and stir constantly, add salt. Mixture should thicken and become like thick pudding.
Remember to stir constantly taking care not to let mixture lump, set aside off from heat until ready to use for the soup.