Outback Honey Wheat Bushman Bread (Copycat)
Bayhill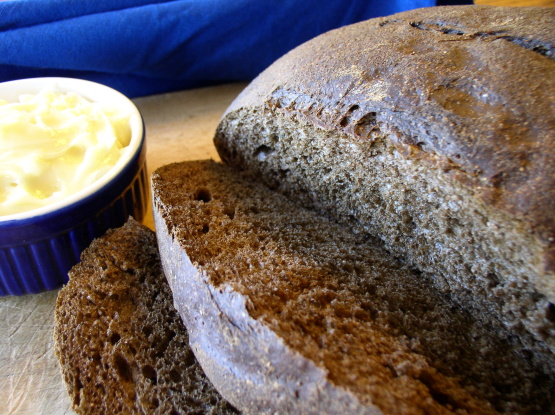 "Recipe created by Todd Wilbur at www.TopSecretRecipes.com". In searching for a copycat recipe for Outback's bread, I found this one online. I'm posting it here as the recipe was written so I won't lose it. I did change the size of my loaves by making two large loaves instead of 6 smaller ones. This recipe is a bit different from others here on Zaar in that it requires molasses as well as honey. It produces a nice dark loaf that we thought was very close to Outback's bread. I mixed up some honey butter to serve with it. Super yummy! NOTE: this is not supposed to be a "fluffy" bread! This recipe produces a dark dense loaf.

Mine came out like hockey puck loafs. Not sure where it went wrong but it went wrong in a hurry thats for sure. My kids where so not impressed and used them as blocks. Sorry that I had to post this, but it was awful. It was jet black loafs. Thanks for shareing though its not your fault that I cant bake sometimes..
In a small bowl, combine the sugar and warm water; add the yeast and let this mixture sit until it is foamy.
While the yeast proofs, combine the bread and wheat flours, cocoa and salt in a large bowl.
Mix the 2 T butter into the dry mixture with your hands.
Make a well in the middle of the dry ingredients; pour the honey and molasses into the well.
Mix the food coloring into the yeast solution and then pour into the well.
Stir with a wooden spoon until all ingredients are thoroughly combined.
Put the dough on a floured surface and knead for 10 minutes.
Roll the dough into a ball and place in an oiled bowl.
Cover and put in a warm place for 1 1/2 hours or until it has risen to double it's size.
When the dough has doubled, divide it into 6 portions.
Roll each portion about 6" long and 2" wide.
Put some cornmeal on your rolling surface and moisten your hands with water.
Rub the dough with your moistened hands and then roll the dough in the cornmeal.
Put the rolled dough on a baking sheet and cover to rise again.
Set the dough in a warm place again for about 1 hour or until the loaves are doubled in size.
Bake at 350 degrees for 35-40 minutes.
When done, let it cool for 10-15 minutes.
Combine the 1/4 c butter and honey (to taste) in a small bowl.
Whip with a mixer until thoroughly combined.
Serve on the warm bread.