Freya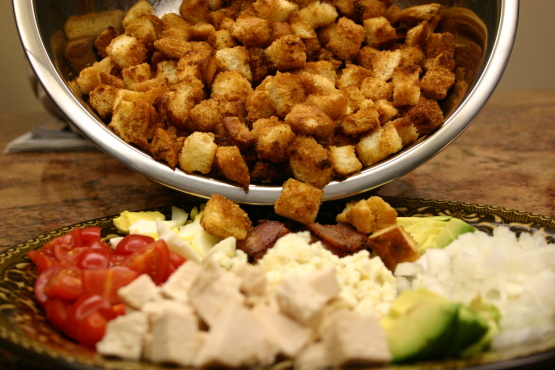 a friend who works there gave me this recipe..not for the diet conscience but they are terrific..cheap bread works best..or homemade leftover is great too..

excellent recipe! Not quite like Outback though! I know I sound like Paula Deen right now, but they need more butter. I know the recipe already has a ton, but they are just really good, normal croutons right now, not quite the texture of Outback. I cut the recipe in half (because who has a cookie sheet to hold 2 loaves of bread?!). I also used 2 bowls and divided up the butter mixture evenly. It was much easier to coat the croutons when not working with such a large amount. Also very important to spread them onto the cookie sheet in one layer so none are overlapping. I will for sure be making these again, just with more butter - then I will hit the treadmill! :)
Cut bread into bite sized pieces -- melt butter until it looks like mayo.do not melt to a liquid.croutons will NOT turn out.
Add garlic and seasoning to butter and blend well and set aside.
Put bread on a cookie sheet and toast till golden brown.
Be sure and let cool completely.
Place butter mixture into a large bowl -- coat bread cubes gently --
put croutons back on baking sheet and bake at 8-10 minutes.at 350*.
Gently shake the pan to make sure all are browning correctly.