Our Gareth's Cherry and Coconut Crumble
robd16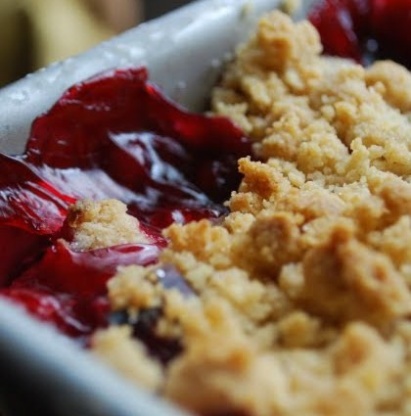 This was the first thing my brother Gareth brought home from school that we all loved, and his cooking skills have improved ever since! Simple, gorgeous and effective, this pudding is sure to satisfy, trust me, you won't be disappointed! serve with custard or cream

It was THE best dessert I ever made.. with the exception of the bread and butter pudding I made..
Preheat the oven to 180C/350°F.
Pit the cherries if they're not already and put in a pan along with the syrup they came in, the sugar and lemon rind and bring to the boil.
Mix the cornflour with the water in a small cup and add to the cherries once boiling. Stir constantly until the mixture thickens (1 minute or so).
Take of the heat and add the butter. set aside.
To make the topping sieve the flour into a bowl, cut the butter into small cubes and rub into the flour until it resembles fine breadcrumbs (you could use a food processor).
Now add the sugar and coconut and mix well.
To assemble to crumble, pour the cherry mixture into an ovenproof dish and sprinkle the coconut mixture on top.
Bake for 30-40 minutes until golden brown and serve with lashings of custard or cream.