Our Favourite Cinnamon Buns
Chef Dee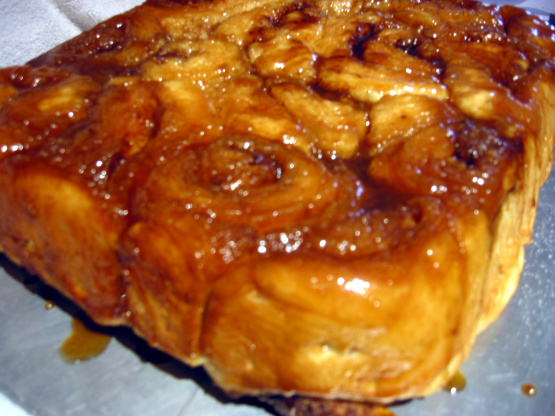 The cinnamon buns bake up large but extremely soft. The topping has a nice butter toffee flavor. Don't let the length of the recipe scare you, it's quite easy. I hope you enjoy them as much as we do !!

I made up my second batch of this dough in one week--the first was for Dee's recipe for Recipe #114832 and I loved them so much I followed Dee's recommendation to try it again using the additions in this recipe for cinnamon buns. They were equally awesome! Nice, soft and delicious! I might say also that they were "GI-NORMOUS" (gigantically enormous). I cut them 2" and put 6 to a 9 x 12-inch pan. I ended up with the biggest, yummiest cinnamon rolls I have ever eaten. I think I will make them a tad smaller next time. I highly recommend this recipe!
Stir 3/4 c sugar, oil and salt into the boiling water.
When the mixture has cooled, stir in the eggs and 1 c flour.
Stir the warm water, 1 teaspoons sugar and the yeast together.
In a large mixing bowl, combine the oil mixture with the yeast mixture.
Add the remaining flour, working it in one cup at a time, mixing the dough until it is soft, and no longer sticky.
Knead the dough, place in a large oiled bowl,covered, then let rise until at doubled in bulk.
Punch down, cover and let rise again.
When I get to this step, I cut enough dough out to make 9 dinner rolls, then set them in an 8x8 oiled pan to rise.
On a floured surface, roll the dough into a rectangle, about 1 1/2" thick.
With a rubber spatula, spread the 1/2 cup softened margarine over the dough.
Sprinkle with the brown sugar and cinnamon.
You may adjust the sugar and cinnamon amounts according to your taste.
In a bowl, stir the 1/2 cup melted margarine, corn syrup, cream and brown sugar together.
Pour into well oiled pans, I like to use cake pans.
Roll the dough up tightly, sealing the seam by pinching the dough together.
With a sharp knife, slice the dough into 2" slices.
Place the slices into the pans, then let rise until doubled.
Bake at 350 for 20 min's.
Let the buns sit in the toffee sauce for 5 min's, then invert pans onto cookie sheets.
Enjoy while warm, these will stay soft for several days.
Note: I would not advise using a citrus based filling as it will change the flavour and texture of the dough and sauce.