Our Favorite Stuffed Green Peppers
Amy F.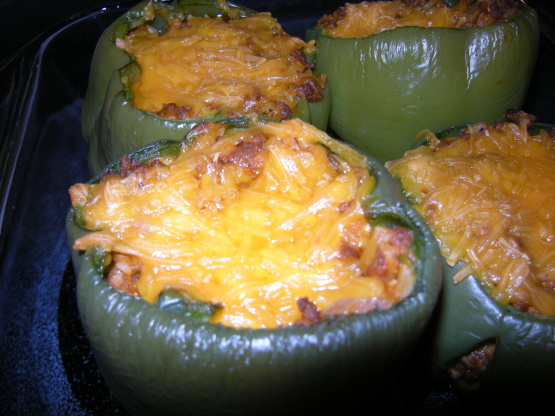 This is our favorite stuffed green pepper recipe. We add cheese to the mixture and I always use whole grain brown rice. It takes longer to cook the rice, but worth it! Prep time includes time for cooking whole grain brown rice.
Remove tops and seeds from green peppers. In a large kettle with enough water to cover peppers, boil; then cook peppers 5 minutes. Remove and drain. Cook brown rice by package directions. In skillet, brown beef and onion; drain well. Add tomato sauce, basil, oregano, thyme, salt, pepper, and beef bouillon. Cook 5 minutes. Stir in rice and cheese if desired. Stuff peppers with mixture and top with cheese, if desired. Place upright in shallow baking dish or casserole. Bake at 375 F for 15-20 minutes.