Our Favorite Strawberry Bread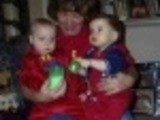 This recipe is one that my teenage son begs for frequently. We have been making it for many years. It can be made with fresh or frozen strawberries. If using fresh, you will need to sweeten 1&1/2 to two cups of berries.
Directions
Mix all dry ingredients together.
Add the oil, eggs, and strawberries (including juice).
Divide between 2 greased loaf pans.
Bake at 350 degrees for about 1 hour.
Reviews
Most Helpful
nice moist bread,a little bland though, was expecting more strawberry flavor . next time ill add some nuts and some vanilla flavoring to enhance a little.thank you for sharing this recipe.