Our Favorite Chicken and Coconut Soup - Thai Style
beckas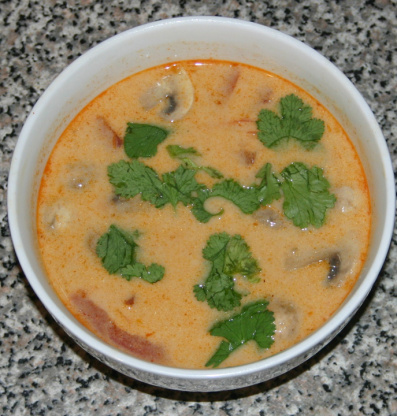 My husband and I love Tom Kha Gai and have tried it at many Thai restaurants. We prefer Thai soup that we can distinctly taste spicy, sour, and sweet flavors. After many attempts, I think that I've finally come up with a really good recipe. I started with a recipe from the "The Best Recipe, Soups and Stews" cookbook and then modified it so that the flavor and ingredients closely match that of a soup that our favorite Thai restaurant serves. Now we can have delicious Tom Kha Gai without having to go out to eat. Part of the uniqueness of this recipe is that the ginger and lemon grass are finely minced as opposed to being left whole as in traditional Thai soup. The good thing about this is that you don't have to "fish out" ingredients while eating the soup.

Very tasty and wonderful flavors! It tasted like the soup I usually have at the Thai's restuarants. I followed everything as stated except: I did not minced the lemongrass(it was too hard), and I left out the tomatoes. I cut the lemongrass stalk in fourth so it was easily fish out. I had a difficult time attempting to mince the lemongrass so I just gave up. The receipt was very easy to follow. I had a lot of the ingredients on hand so it was effortless to cook them. It would be a challenge to find the ingredients if you don't live near an Asian grocery store. Thank you for sharing your receipt.
Heat oil in a large stock pot Add the lemon grass, ginger, garlic, and onion and stir fry for about one minute.
Add the curry paste and Tom Kha soup mix paste and stir fry for about 30 seconds.
Add the chicken stock, fish sauce, and sugar and bring to a boil.
Reduce heat to low and simmer for about 15 minutes.
Slice the baby corn vertically into four pieces so that the corn resembles small strips.
Add the corn to the pot and simmer for 10 minutes.
Add the coconut milk, chicken, mushrooms, tomato, lime juice, hot sauce, and pepper flakes.
Simmer until the chicken is no longer pink, about 5 to 10 minutes.
Taste the soup and add more sugar, lime juice, or hot sauce, depending on your taste.
I usually add one more TBS of sugar.
Serve the soup garnished with cilantro leaves.
Note: If you have leftovers, the coconut milk will separate from the chicken broth when chilled.
Simply warm the soup back up and stir to blend.