Our Favorite Buttermilk Pancakes
ImPat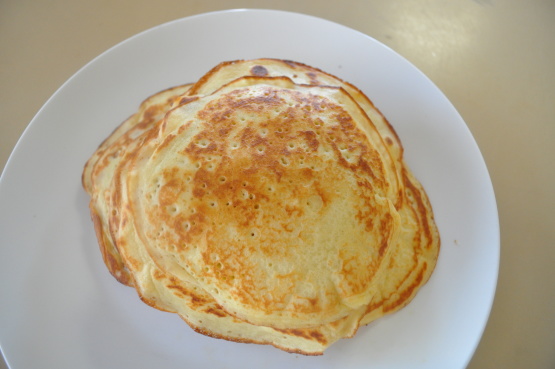 I believe this is from a McCall's cookbook. I've had the recipe for so long I'm not quite sure but the pancakes are every bit worth the effort. Our family rates them ten stars! :)

Top Review by ImPat
My only issue was that the mix was so thick and when I cooked the first pancake I knew it would be a case of burnt on the outside to cook the inside so added about another 1/4 cup of buttermilk and voila could scoop into th pan and swirl and get some lovely pancakes and got 15 in total though think mine were a little less than 4 inches but were thoroughly enjoyed, the DH had his with sugar and lemon juice, the DM and DS as is and I had mine with a drizzle of sugar free maple syrup, yum, thank you Silent Rain for a lovely recipe and Sydney Mike for his recommendation, made for I Recoomend Tag Game.
In large bowl of an electric mixer on high speed beat eggs until light and fluffy, about 2 minutes.
Into eggs sift the flour, baking powder and salt and granulated sugar. Add brown sugar and beat until smooth.
Stir in buttermilk and butter or margerine until just combined. DO NOT OVERBEAT!
Meanwhile heat pan over medium heat. To test temperature drop a little cold water onto pan. The water should roll off in drops. Lightly oil pan.
Use 1/4 cup batter for each pancake. Cook until light brown on each side. This recipe can be doubled with great results.
Enjoy! :).