truebrit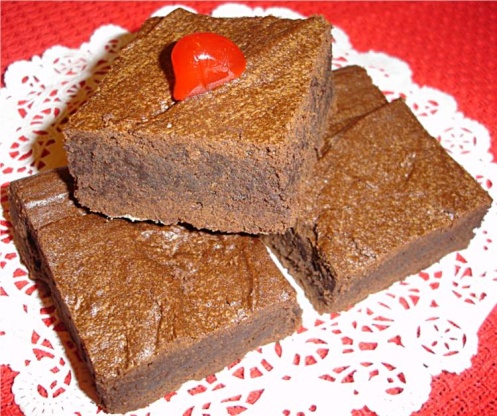 Everyone has their favorite, this is ours. Lovely moist on the inside, perfect sprinkled with powdered sugar, frosted, or served with a scoop of vanilla ice cream.
I absolutely loved the texture of these brownies-just what I was looking for, soft and dense. The taste, however, was less satisfactory. Something was off, I wonder if it's the powdered sugar-but I suspect that's what helped the texture. Maybe the chef can enlighten me?
Preheat oven to 350°F.
Butter and flour an 18 cm cake tin.
Melt the chocolate with the butter in a glass bowl over a pan of simmering water.
Mix well, and allow to cool slightly.
Blend flour, sugar and salt well.
Add the cooled chocolate mixture to the flour, fully incorporating.
Whisk in the eggs and the yolk one at a time.
Beat for about a minute until thickened and smooth.
Bake for 40-45 minutes or until a toothpick inserted is moist with crumbs.