Our Favorite Black Bean Soup
Parsley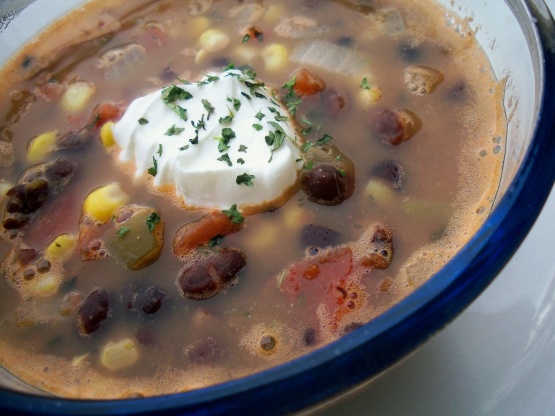 Another family favorite recipe that has been scratched on a piece of paper without knowing where it came from. It's a delicious soup and though we've tried many black bean soups on Zaar and elsewhere and really liked them, this one is our favorite.

Definitely 10 stars for ease, a nice recipe to know when you don't have much time to throw a wholesome meal together. I had some previously cooked black beans on hand, so it was even quicker for me as there were no tins to open or drain. Made exactly as written, using slightly less chili powder than called for and fresh garlic instead of powdered. I'm not a big fan of boiling onions, and although the end result is very good here, for me it would have been 5 stars if I had sauteed the onions in some oil before adding the broth. Great consistency, so often black bean soups are really thick, I think this is just right. Thanks Enjolinfam!
Mash one of the cans of beans with the juice with a potato masher. Drain and rinse the other two cans of beans and set these whole beans aside.
Add salsa, garlic powder, chili powder, salt, and cumin to the one can of beans that were mashed, then set aside.
In a pot bring the broth, water, and onion to a boil.
Simmer until the onions are clear. Then add the corn and all of the beans to the pot (both the mashed and the ones not mashed).
Stir well and then simmer at a low heat for about a half hour.
Can serve topped with sour cream and diced green onions.