2Bleu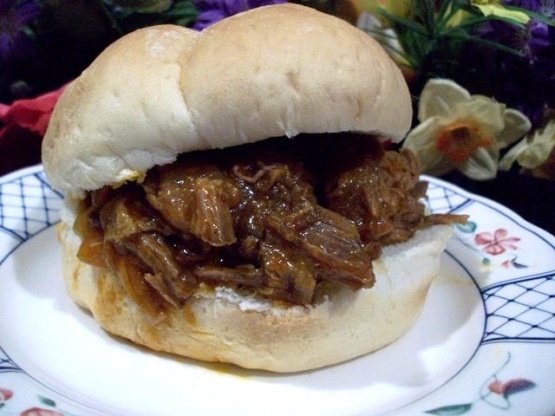 After making this recipe twice, I lost it. Because I thought I got it here I spent a lot of time searching zaar but could never find quite the right recipe. When I did finally find my original copy, it was from a different site! (I believe it was from cook.com but I have lost it again. Thank goodness I had already copied it elsewhere! lol) My family LOVES this recipe, my husband says this is the only bbq beef to make from now on. It is especially good topped with cole slaw but wonderful plain as well! (the servings is a guess, it just depends on how much meat you like on your sandwich!)

Top Review by Amy F.
This was delicious and super easy to make. We don't use our oven in the summer so I threw everything in the crockpot and used a pair of kitchen scissors to cut up the meat after it was done. 6 hours worked out great. We finished the leftovers today..YUM! Thanks for a keeper!
Pre-heat oven to 350 degrees.
Mix all ingredients (except Roast) in a bowl.
Place Roast in a shallow baking dish, just big enough to hold Roast and sauce).
Pour sauce over Roast.
Bake for 3 hours.
Slice or shred.
Serve on buns (with or without cole slaw! ;) ).
*the original recipe does not call for it but I have found that it is helpful to periodically spoon some of the sauce back over the top since you do not cover it at all.
*I have also tried this in a crock pot set on low for roughly six hours. The roast came out much more tender and easier to shred but, because they trap the liquid, the sauce was much too runny for our taste.