Our Family Favourite Crock Pot Chili (Oamc)
Redsie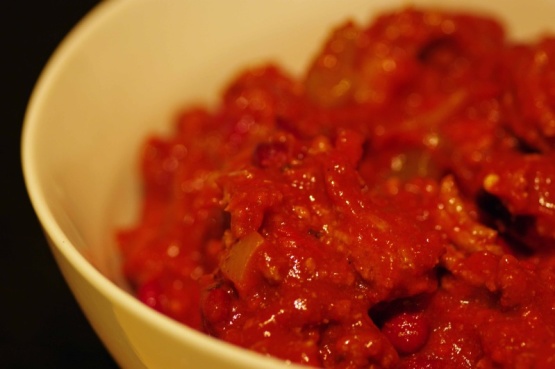 I finally got around to putting this recipe on Recipezaar! This is our family's favourite recipe. It is very kid friendly (no heat) so feel free to add something to spice it up if you like it spicy. I am posting this mainly so that I can access this recipe on "my shopping list" which is a feature I use here on Recipezaar all the time!
If you want your chili to taste like tacos with beans then this is the recipe for you. I won't be making chili with taco seasoning or condensed soup again. On the plus side it is easy to make.
Brown ground beef, (I like to do a huge batch of ground beef using Tish's recipe#31008 and it works perfectly) place into a Ziploc bag and throw into the freezer.
The night before serving, defrost overnight.
(I usually don't, but some people argue that cooking frozen meat in the crock pot is not safe.).
Throw everything into the crock pot and cook for 3-4 hours on high or 6-7 hours on low.
Garnish with cheddar cheese and serve.
I will sometimes serve this on buns as sloppy Joe's.
**If desired you can make the entire recipe and freeze already made, then heat to serve. This recipe freezes great!**.