riffraff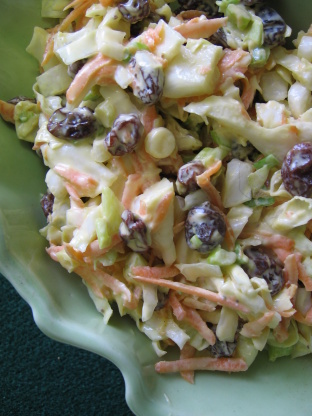 This recipe is very special to me as my mom and I worked it out together and have enjoyed many laughs in the kitchen in the process. It has the things she likes and the things I like all in one delicious slaw. Tastes great the next day too.

This recipe really appealed to me because of the combination of carrots, cabbage, and raisins and I served it with oven fried chicken for dinner. However, I really did not like the taste of the celery seeds. After adding 2 teaspoons of celery seeds, I tasted the dressing and opted not to add more. As things are now, I wish I had tasted it after one teaspoon. I'm sorry for the bad review.
Mix the first 6 ingredients together in a medium bowl while you shred the carrots and cabbage and chop the green onions.
Add the carrots, cabbage and green onions.
Mix well.