Ottolenghi's Chickpea Cooking Method
gailanng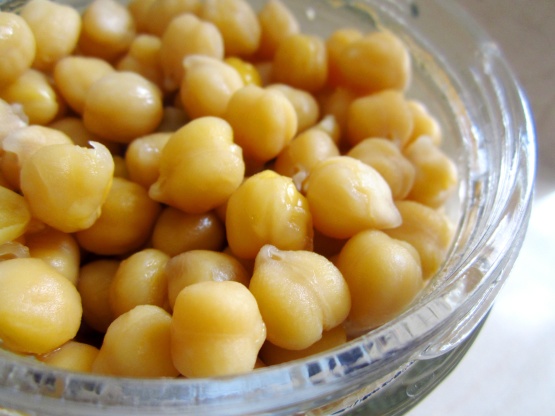 This is Yotam Ottolenghi's method for cooking chickpeas, which he learned from his friend Sami Tamimi's grandmother. Some people like to use this method to cook chickpeas for hummus, because it makes the skins very soft, and this results in a smoother hummus. The chickpeas are sautéed with baking soda for a few minutes, before dumping in the water to simmer the chickpeas. The baking soda makes the water more alkaline, which softens the chickpeas more quickly by weakening their pectic bonds. Also, sautéing the chickpeas with the baking soda before adding water adds a friction which helps break down the skins and gets the baking soda to penetrate the skin better. This allows them to cook much faster and puree smoother. NOTE - "preparation time" includes soaking time. This method also loosens and removes the skins on the chickpeas, so if your goal is to have whole, intact chickpeas for a recipe, this is not a good method to use.

This method works extremely well, and since I started using it I haven't made hummus with canned chickpeas. The extra effort is absolutely worth it! I add a teaspoon of salt to the overnight soaking water - a Cook's Illustrated tip for brining dried beans.
The night before, put the chickpeas in a large bowl and cover them with cold water at least twice their volume. Leave to soak overnight for at least 12 or up to 24 hours.
The next day, drain the chickpeas. Place a large pot over high heat and add the drained chickpeas and baking soda. Cook for about three minutes, stirring constantly.
Add the water and bring to a boil. Reduce heat to a simmer, and cook, skimming off any foam and any skins that float to the surface.
The chickpeas will need to cook for 10 to 40 minutes, depending on the type and freshness, sometimes even longer. Start checking them after 10 minutes, and then check every 2 minutes after that. Once done, they should be very tender, breaking up easily when pressed between your thumb and finger.