otoro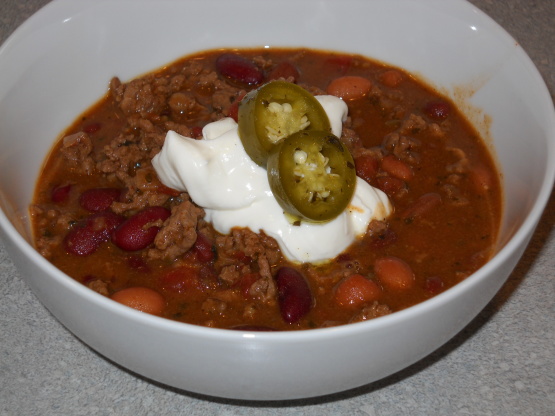 Everybody loves this great hearty chili. I make this quite often, especially in the winter. Also quite good using venison as a substitute. Serve with hot dogs, cornbread, or maybe some cooked macaroni. I'll sometimes make this a day in advance as it always tastes better the second day. I don't use enough cilantro to have fresh on hand so I usually use dried in this recipe.

This recipe is like mine except I use deer burger and deer tenderloin chopped up as stew meat. I saute the tenderloin with garlic and onion and then cook in Dr. Pepper for a while til it's tender. Then I add everything else including more onion and garlic. Yummmmmmy!
Heat the olive oil in a non-stick 5 quart pot on medium high heat. Add the onion with a pinch of salt and cook, covered on medium low heat for 30-40 minutes, stirring occasionally until light brown. Add more oil if needed, make sure the onions don't burn!
Turn the heat up to medium high and begin to cook the meat. Season with kosher salt and freshly ground black pepper.
Once the meat is almost cooked add the garlic and tomato paste. Break up the tomato paste and incorporate into the meat. It should look like a sloppy joe consistency.
When the meat is cooked through, drain if desired and add the beans (along with their liquid) and the rest of the ingredients, stir to combine. If it seems too thick add a bit of water and bring to a boil.
Turn the heat down and simmer, partially covered for an hour to an hour and a half. Stir occasionally.
Remove from heat. Ladle into serving bowls and garnish with chopped onion, tomato, or grated cheese if desired. Bon Appetito.