otoro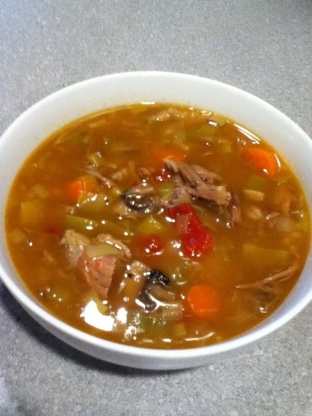 I made this a few days after Easter when I had leftover leg of lamb. Save the bones, along with the green part of the leeks to make lamb stock, if not beef stock can be substituted. It turned out really awesome and tastes even better the day after you make it. Really just add any veggies you like, my GF doesn't like onions (hence the leeks) but she loves mushrooms. This is hearty food for working class people, not fancy just good food for the gut. Simple and delicious.
In a large pot add the 3-4 T. of oil or butter and turn to medium-high heat.
Add all the vegetables (besides the tomatoes), season with salt and pepper and cook a few minutes until they begin to soften.
Add the lamb and cook until the outside is browned.
In a nonstick skillet melt the 1/4 cup of butter over medium-low heat and add the flour. Cook a few minutes until the mixture gets a little color, no more than 4 minutes. There, you just made a roux. Easy.
Add the roux to the pot along with the tomatoes, stock and beer. Stir to combine and bring to a boil.
Turn down to a simmer and cook for 2 hours.
Add the barley and herbs and cook for another 20 minutes or until the barley is cooked to your liking. Taste and adjust the seasonings. Bon Appetito.