Gatorbek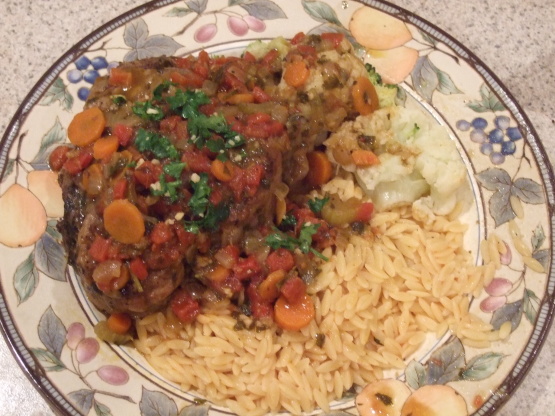 I found this recipe in the Aces Best of Bridge cookbook. It's easy and tasty.

Please note that instructions call for adding basil while there is no basil listed in the ingredients. I added 2 Tbs fresh frozen basil. The prep was easy as pie. I did take the time to truss around the shanks w/ butcher;s twine so as to keep the meat intact. I also baked with the larger side of the bones down so that they would braise and the tops would brown. As another modification, I used veal broth as opposed to chicken (I like a darker sauce) All in all a delightful dining experience. I highly recommend this recipe
1⁄4 cup flour
salt and pepper

6

pieces veal shanks, 1/2-pound each
1⁄3 cup olive oil

3

tablespoons butter

2

large carrots, peeled and sliced

1

large onion, diced

2

stalks celery, sliced

1

tablespoon garlic, chopped

2

bay leaves, crushed

3

tablespoons fresh marjoram or 1 tablespoon dried marjoram

1

cup fresh parsley, chopped

1

lemon, rind of, grated
1 1⁄2 cups dry white wine

1

(19 ounce) can Italian plum tomatoes, drained, coarsely chopped
1 1⁄2 cups chicken broth

For Gremolata

4

teaspoons fresh parsley, chopped

2

teaspoons lemon zest

1

garlic clove, finely chopped
Combine flour, salt and pepper in a plastic bag.
Add veal shanks and coat with flour mixture.
Heat oil in a large skillet and brown veal on both sides.
Remove veal from skillet, reduce heat and add butter, carrots, onion, celery, garlic, bay leaves, marjoram, basil, parsley and lemon rind.
Saute for 5 minutes.
Add wine and continue cooking for 5 minute more.
Stir in tomatoes and broth.
Place veal in a casserole with the sauce and bake, covered, at 325 for 2 hours.
Garnish with gremolata.