Veal shanks braised in tomatoes & wine until tender and falling off the bone. This is a hearty Italian recipe that seems to please everyone. It is good served with any starch. Rice, potatoes, polenta, pasta or crusty rolls. I have done this with plain steamed rice, but last night served it with Risotto Milanese which is Risotto w parmesan cheese and saffron. Very tasty. Osso Buco means "hollow bones" in Italian and is served all over Italy, but purportedly comes from Milan.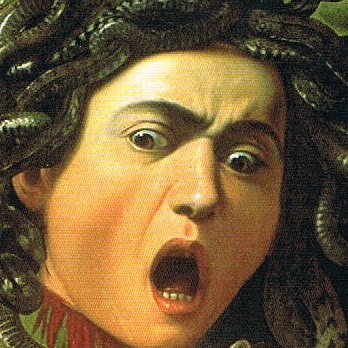 Ok, I don't even know if I should be rating this since I didn't use veal (they were $11 each, and I didn't want to pay that) so I used really thick bone-in pork chops. Having said that, this was absolutely terrific! The meat was falling off the bone, the sauce was incredible, even the leftovers were delicious.
Heat one ounce of the butter in a large Texas skillet or Dutch oven.
Add peeled & finely chopped carrot, onion, celery and one of the crushed garlic cloves. Cook gently until onions are golden brown. Remove from heat & transfer to a large ovenproof casserole.
Coat shanks in flour seasoned with salt & pepper. Heat remaining butter & oil in large frying pan. Add shanks and brown on all sides.
Carefully pack shanks on top of vegetables in casserole; stand shanks upright to retain marrow in the bones.
If pan is oily drain excess oil off. Add tomatoes and chop into pan with wooden spoon until the tomatoes are all popped. You could also start with chopped tomatoes or you can puree them. I just find the flavor better with the whole tomatoes and enjoy the tomato chunks with the rest of the veggies and the meat. Deglaze the pan by scraping the goodies up off the bottom of the pan into the tomato juices with a wooden spoon. Add wine, beef broth, basil, thyme, oregano, bay leaf & strip of lemon rind. Taste. Add salt & pepper to taste if necessary.
Pour sauce over veal shanks & veg in casserole. Bake in moderate (350°F) oven for 2 hours, or until meat is falling away from bones. (Stir occasionally during cooking.)
Serve over rice, pasta, potatoes or polenta.
Quickly blend the chopped parsley, grated lemon rind & other crushed garlic clove and serve separately as a fresh, crisp garnish.