Ingy1171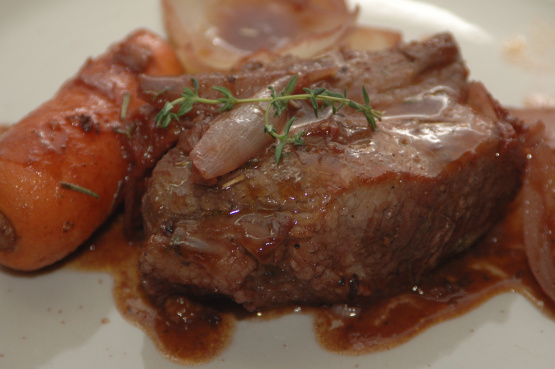 This is really good for a romantic dinner for two on a snowy night.

The French Dry Rub sets this osso bucco way above other osso bucco recipes I've made. Did make some changes, tho. I used 8 shanks, 2 carrots, only about a cup of red wine and did not add the fresh rosemary/thyme (tho I had them handy) during cooking. I didn't want to risk overpowering the great flavor of the rub. After browning the shanks, I removed them and sauteed the veggies quite a while till caramelized. After all was put together, I very-slow cooked it - several hours - then took out the shanks, defatted the liquid and thickened it with a flour/water mix. Removing the meat for a while tends to firm it up, which I like. Makes lots of gravy and I am plotting to incorporate the leftover as an experimental soup-base. Thanks, Diana!
4 hours before cooking or the night before rub the French Dry Rub into the shanks, both sides.
In a large dutch oven over medium high heat add the oil and sear the shanks on both sides.
Reduce heat to medium and add the carrots, celery, and onions and cook, as is, for 5 minutes.
Now add the tomatoes, broth, wine and pepper and fresh herbs.
Bring to a boil, cover and reduce to a simmer for 30 minutes.
When done remove shanks to individual plates along with the vegetables and over high heat quickly reduce the liquid.
Pour this over top.
I serve this with a Cesar Salad, Garlic Bread and roasted potatoes.
Don't forget the wine!