Ospidillo Cafe Michigan Hot Dog Chili Sauce No. 14
PaulaG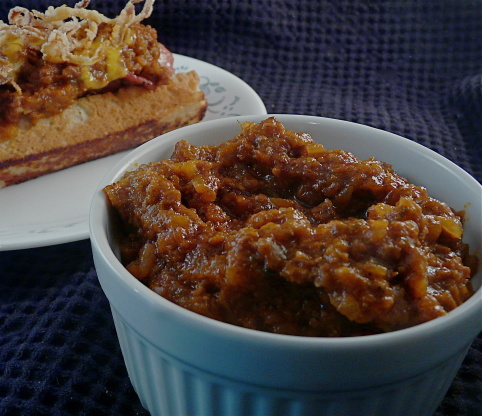 A regional hot dog sauce with a little heat. It does not lack for flavor and this recipe makes a nice big batch for family reunions, etc. My personal favorite.

Thanks for a great base for our palates! I had to tweak it for our tastes but finally got what I was looking for. since this was my first time i decreased the recipe by half on the amounts originally. I cooked the onion with the meat, drained it well then let it spin around the food processor a few times to thin out the meat much like the canned chili consistency. I used a 15 oz can of tomato sauce, increased the chili powders, garlic powder, cumin, hot sauce and mustard. I added 1/2t salt and 2 T worcestershire. of course I made the recipe as written but kept adding alittle more of this and that and tasting until I was satisfied. finally got what I wanted without to much variation. the original just didn't pack the flavor I was looking for but it was still good. By the way my 1/2 sized recipes made just over 4 cups of chili. I froze it by cup fulls for later use. next time we will double the recipe. and maybe I will try fresh garlic to pack a bigger flavor. Thanks for sharing this!
Brown and drain the ground chuck and put into a large cooking pot.
Add all ingredients, except for one cup of water and the bouillon cube. Bring the sauce to a slow boil over low heat.
Mash the bouillon cube in the cup of water and add to the sauce. (If you do not have a Maggi bouillon cube, just use 1 1/2 regular chicken bouillon cubes).
Allow the sauce to simmer, covered, over very low heat, stirring occasionally, for 2 hours.
Serve over hot dogs.
My personal preferences for ingredient brands are Heinz mustard and Tupelo honey but any brands will do.