Ospidillo Cafe Gourmet Mushrooms
Prep 10 mins
Cook 30 mins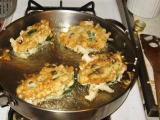 A shockingly great appetizer or side dish. A friend of mine shared the original recipe with me and I tweaked it. If you like a good grilled steak, this is the perfect side dish and quite easy to prepare.
Directions
Cut larger mushrooms in two. Make sure that the bottoms of the stems are freshly trimmed off.
Melt the butter in a 2- or 3-quart pan on low heat.
Mash the bouillon cubes in with the butter and stir until they are dissolved. Then, add the garlic.
Add the mushrooms to the pan, stir, then add the wine. Stir.
Cover and maintain low heat (barely a boil) for about 25-30 minutes, stirring occasionally.
The mushrooms are done when they have shrunk to about 1/2 to 2/3 of their original size.
Most Helpful
Oh, YUM!!! I've tried recipes using Worchestershire and other ingredients, but these are simpler and just plain better! I used sliced "baby bellas", and we fought over the last few shrooms! Thanks!

I had to sub a few things but this turned out just fabulous for us. I had to use what I had on hand (stuck at home waiting for repairmen): a bag of frozen, Trader Joe's Asian Mushroom Medley and madeira instead of red wine. Also, I used half the butter called for and only 1 beef bouillon cube. If this recipe turned out so well with those substitutions then I can only imagine how great it is prepared according to 'the plan'. I served this with sauteed skirt steak and french fries. The husband was thrilled....we have leftovers and we're planning on using them in omelettes. Thanks Bone Man for posting this recipe!

Really, Really, Really Good! I cannot wait to serve these to company.