Ospidillo Cafe Cincinnati Chili No. 2
Bone Man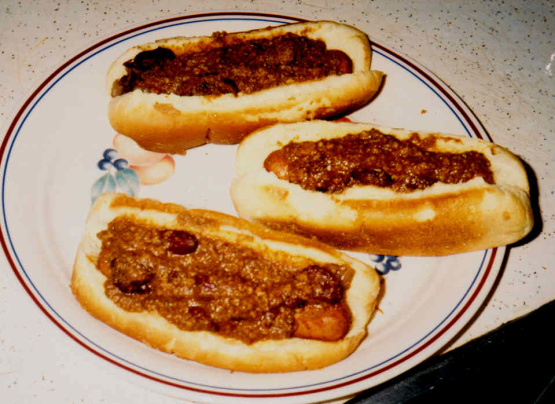 If you've ever eaten "Cincinnati Chili" at Gold Star Chili, Empress Chili, or Skyline Chili restaurants in Cincinnati, Ohio and liked it, then you'll love this recipe. It's really "Greek Chili" and most copycat recipes have chocolate in them -- this one does not. Use this chili over spaghetti (topped with shredded cheddar, diced onions, and Tabasco, a.k.a. "Thee-Way"), or, use it as a great hot dog (coney) chili sauce. Yes, it takes awhile to make it but you won't mind so much after having tasted it.

I used to buy the frozen Skyline Chili, but no more. I've made this at least 3 times, and yes it is great on hot dogs. Thank You for such great recipe.
In a large cooking pot, over medium-high heat, break up the burger into the chicken stock.
Add all the remaining ingredients except for the bell pepper and the kidney beans, bring to a boil, and then lower the heat to a simmer (slightly bubbling).
Cover, and allow the chili to simmer for three hours, stirring often.
At the end of three hours, remove the garlic clove and the bay leaves and drop in the red bell pepper (or, substitute a jalapena pepper if you prefer just a litle heat).
Simmer for two more hours, again stirring often.
At the end of the two hours, remove the whole pepper and add the drained/rinsed kidney beans. Simmer for one additional hour, covered, and continue frequent stirring.
Tips: If you see a need to add just a little additional chicken stock along the way, go ahead and do so, remembering that you will be topping spaghetti and/or hot dogs with this chili. Also, this is a very old recipe (1922) and any "tweaking" will probably not serve to improve it. Finally, make sure that your spices are fresh -- I prefer ancho chili powder but any variety will do.
Condiments for the spaghetti dish version include diced sweet onion, sharp cheddar cheese and Tabasco sauce. Servings are based on spaghetti, not hot dogs.