Ospidillo Cafe 4-Tier Barbecued Ribs
Bone Man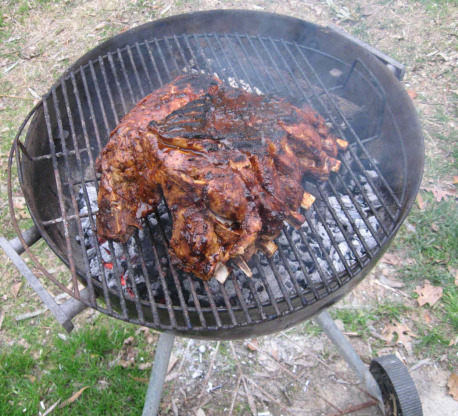 This is a fairly quick recipe that yields really super tender ribs in four main steps. Either beef or pork ribs can be used. In the end, they taste very similar to those served at Damon's Restaurants -- Kansas City (sweet) style.
Parboil the ribs in water for 30 minutes. Then remove and allow them to cool for 10 minutes or so.
Combine chili seasoning, brown sugar, apple juice, vinegar, Worcestershire, chili powder and, mesquite seasoning to form a runny paste. Paint this sauce on the cooled ribs and grill them over charcoal for about 10-12 minutes to a side until there are a few small blackened spots. This is done over a covered grill, turning as necessary to brown them up. If you can't find mesquite seasoning, substitute 1/8 teaspoon liquid smoke and a teaspoon of seasoned salt.
When the ribs come off the grill, place them in a large, flat baking pan sprayed with PAM and place a couple of pads of butter on each bunch of the ribs. Cover the pan/ribs with aluminum foil and bake in the oven at 275°F for 90 minutes.
At the end of 90 minutes, remove the ribs from the oven, paint them heavily on both sides with the barbecue sauce. Re-cover the pan/ribs and bake for another 20 minutes at the same temperature.
Serve hot with more barbecue sauce at the table.