Orzo with Spinach and Asiago Cheese
Prep 15 mins
Cook 10 mins
A good alternative to rice, and a nice side dish, especially with chicken or fish.
Directions
Cook the orzo according to package directions.
Meanwhile, heat a nonstick saucepan.
Add the olive oil, then add the onion, celery, and garlic.
Saute until softened, 3 to 4 minutes.
Stir in the spinach, half the broth, and the vinegar; cook, stirring frequently, until the liquid evaporates, 2 to 3 minutes longer.
Stir in the orzo, cheese, the remaining broth, and the pepper.
Most Helpful
I thought this was very tasty! I ate it for my main dish, the rest of the family as a side. I agree with the previous poster that this barely makes 3 servings. I would double it next time! I also added pine nuts just because. Thanks for posting!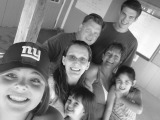 This was very good. I loved the spinach and pasta tastes mingled with the cheese. I used a mixture of Parmesan, Asiago, and Romano cheeses. The recipe claims to serve 4, but it's not even close to 4 servings. I'd say about 2 servings at most.