Ms B.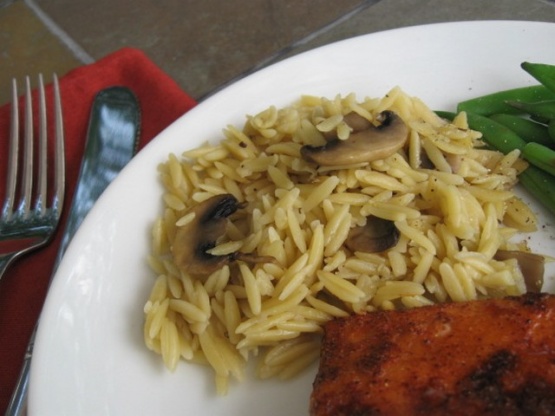 A very tasty and easy side dish. My husband likes this topped with a grating for parmesan cheese. Toasted walnuts are also a nice touch for presentation.

What a fantastic recipe. I followed recipe to the word and was not disappointed. I made this as a side dish with the Lamb Shank with Garlic and Port Wine from this website. Recipe can easily be served as a main dish. I think that a good alteration would be to add some parmesan shavings and rocket leaves.
Heat oil in a large heavy saucepan over medium-high heat.
Saute onion and mushrooms until tender and golden brown.
Pour in broth, and bring to a boil.
Stir in orzo, reduce heat to low, and cover.
Simmer until orzo is tender and liquid is absorbed, about 15 minutes.
If after 15 minutes there is still liquid, remove cover, and cook until liquid is gone.
Season with salt and pepper to taste.