Orzo With Lemon and Parsley
gailanng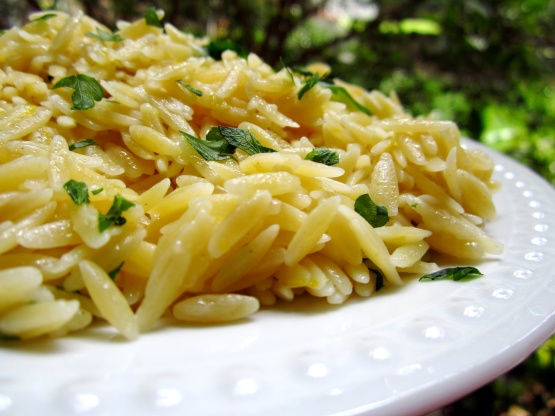 Simple orzo recipe, prepared like risotto. Original recipe by Pam Anderson, published in the Washington Post, June 7, 2000.

This is my go-to orzo recipe because it complements and upgrades so many dishes. I pretty much always leave out the Parmesan because the flavor is great without it, and I often use this alongside various quiches or vegetable pies, so I don't want the extra cheese. Really Delicious!
For a version that is not quite so rich, you may omit the Parmesan cheese.
In a large saucepan, bring 1 quart of water to a boil.
Add the salt and orzo and cook until the orzo is tender and has absorbed almost all of the cooking liquid, 8 to 9 minutes.
Stir in the butter, Parmesan cheese, lemon zest and juice and parsley.
Serve immediately.