Orzo With Chick Peas (Rachael Ray)
jenne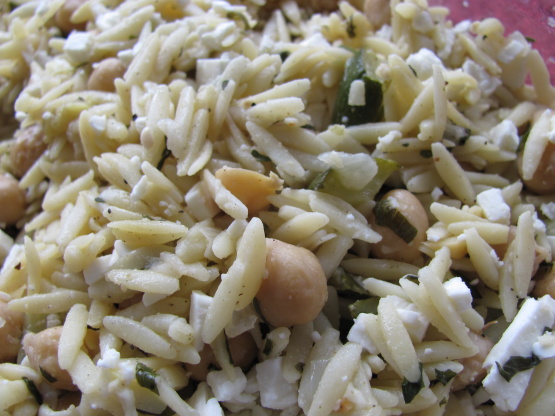 An easy, Greek, vegetarian 30 Minute Meal by Rachael Ray from her Episode: Light and Luscious. I also think some spinach, a few sundried tomatoes and roasted red pepper would be great in here too. As I find frequently with RR recipes, they are pretty bland unless you dump in the salt; for this reason, I have added Greek Seasoning as an ingredient which brings it up to a 5 star recipe in my opinion.
Bring a large pot of salted water to a boil. Add orzo and cook to al dente (per directions on the package).
In the meanwhile, heat extra-virgin olive oil in a skillet; add zucchini, onions and garlic, season with salt and pepper and cook 6 to 7 minutes until tender.
Add chick peas and heat through.
Toss with herbs, orzo and 1/4 cup of cheese.
Adjust salt and pepper and serve, sprinkling remaining 1/4 cup of cheese over top of each serving.