Orzo With Blue Cheese and Walnuts
gailanng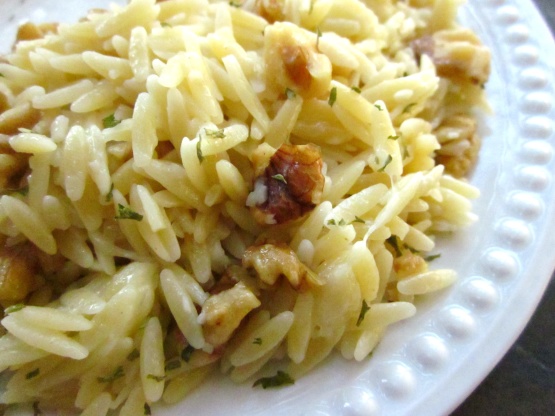 Simple orzo recipe, prepared like risotto. Original recipe by Pam Anderson, published in the Washington Post, June 7, 2000.
In a large saucepan, bring 1 quart of water to a boil.
Add the salt and orzo and cook until the orzo is tender and has absorbed almost all of the cooking liquid, 8 to 9 minutes.
Stir in the butter, Parmesan and blue cheeses and walnuts.
Serve immediately.
* Note: To toast nuts, spread them on a baking sheet and place them in a 350-degree oven, shaking the pan occasionally, for 8 to 10 minutes. Watch carefully because nuts will burn quickly.