Orzo Summa Domae (Greek Orzo Salad)
MsBindy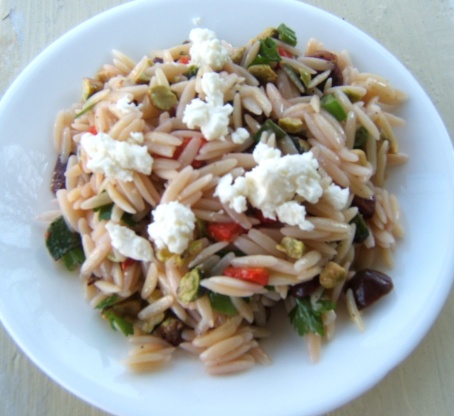 The title of this recipe is my attempt at calling it Orzo Delight, in Greek. Hopefully I'm not calling it something inappropriate!! This salad is a colorful orzo salad with a nice crunch. Try it; you'll be sure to enjoy!

I liked this salad but wasn't crazy about it. If I were to make it again, I would cut the dressing down, as I thought it was a tad too strong.
Cook orzo per package directions.
Roast the red pepper:
Quarter the pepper, remove stem and seeds. Broil the pepper skin side up until skins blisters and blackens, about 8-10 minutes.
Immediately put the pepper in a bowl, cover it with a lid or plastic wrap, and let stand for 15-20 minutes.
Peel off and discard the charred skin.
Chop the pepper.
Combine the orzo, roasted red pepper, pistachios, green onions, olives, parsley and oregano in a large bowl.
Combine all the dressing ingredients together in a small bowl and whisk together.
Pour dressing over orzo mixture, tossing gently to coat.
Refrigerate.
Before serving, crumble 1/2 cup feta cheese over top of salad (or gently combine into salad if you prefer).