Orzo, Shrimp, and Pea Casserole
vrvrvr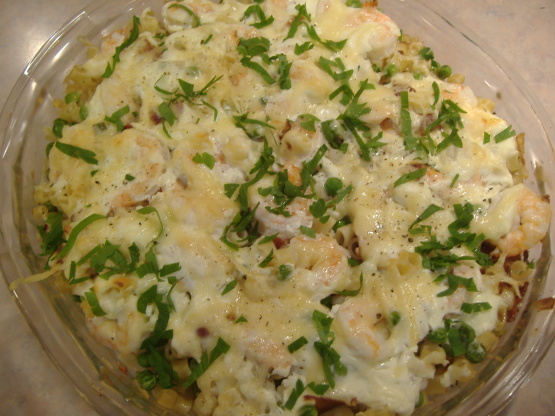 If you like herby casseroles, you may want to add a little oregano, thyme, or summer savory.

This was ok. I think with some changes it could be awesome. I agree that after altering, it would be a very fancy dish. Flavors were good, but adding in some dill would really boost the flavor. Also, I would mix in most of the cheese and the sour cream with the orzo. As is, nothing stays together except the topping. This won't be an everyday dish for us, but maybe for special occasions.
In a skillet, fry bacon over medium heat until almost crisp; drain on paper towels.
Pour off all but about 1 tablespoon of fat; add in scallions and garlic; stir/saute until softened and set aside.
Crumble bacon.
Preheat oven to 350°; butter a 2 quart casserole and set aside.
In a large saucepan, bring the broth to a boil; add in the orzo; decrease heat to low; cover, and cook until all the liquid is absorbed, about 15 minutes.
Transfer the orzo to the casserole dish; add bacon, scallions and garlic, and ½ cup cheese; season to taste with salt and pepper and stir well.
Add the shrimp and peas and stir gently just to mix the shrimp and peas into the orzo.
Spread the sour cream evenly over the top; sprinkle with the remaining cheese.
Bake about 25 minutes, until bubbly and golden.