Orzo Salad With Sun-Dried Tomatoes
L-Burden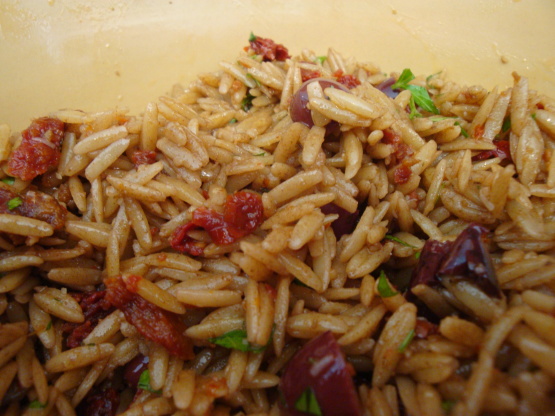 Veryyyyyyy Yummmmmmmmmmmy!

Great recipe, with healthy ingredients, it was so yummy, even my 3 year old son liked it! I omitted the olives, (just because I don't care for them) and I mixed in feta cheese instead of the parm, still tasted great!! Great dish for parties.
In a large saucepan, cook pasta in boiling water until just tender, about 8 minutes.
Drain.
Place garlic, salt, pepper, mustard and vinegar into a food processor.
Process well.
Add oil, process briefly until well blended.
Pour over orzo while pasta is still warm.
Add tomatoes to pasta along with olives and chopped parsley.
Sprinkle with Parmesan cheese.
Toss again and adjust seasonings, if necessary.
Serve immediately, or refrigerate for later use (can be made earlier in the day).
Best served at room temperature.