Orzo Salad With Basil-Sherry Vinaigrette
flower7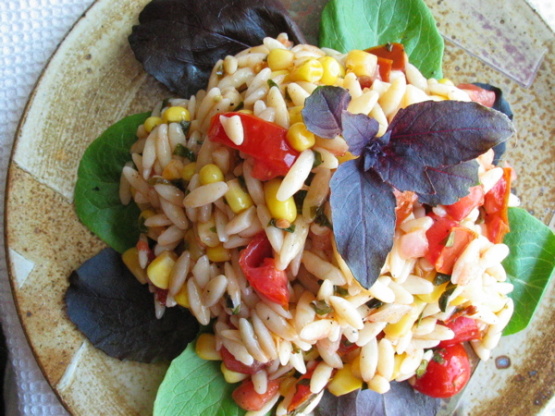 It may not be summer here yet but it certainly feels like it w/ temperatures in the upper 80s already. I've not tried this recipe YET but it sounds delicious and I love salads in warmer weather. Posting so I can find this recipe from Paulette Mitchell; prep time is a guess-timate and does not include time to allow salad to cool or to chill in the frig.

Wow! I was really surprised by this one. Very simple ingredients that come together to something greater than the sum of the parts! I had regular cocktail sherry not cream sherry so added about 1 tsp of sugar but otherwise changed nothing. I used a mix of fresh purple & green basils that I've been growing all summer and garnished with purple basil. Also used frozen corn. Orzo is my favorite type of pasta and I'm so glad to find another tasty salad to make with it. Thanks for posting!
To make Basil-Sherry Vinaigrette:.
Whisk together the oil, sherry, and lemon juice in a small bowl.
Stir in the remaining ingredients.
Taste and adjust the seasoning.
Refrigerate in a covered container for up to 4 days.
Whisk or shake before serving.
To make the orzo salad:.
Place the ear of corn on a microwaveable dish covered loosely with waxed paper. Microwave on high until hot, about 2 minutes. (If using frozen corn, cook according to package instructions. Drain well.) Set aside to cool.
Bring a small saucepan of salted water to a boil. Cook the pasta according to package directions. Drain well. Rinse with cool water; drain again.
When the corn has cooled, cut the kernels off the cob. (It's best to cut or break the ear in half. On a cutting board, hold the cob upright. Using a sharp knife, slide the blade downwards, letting the kernels fall on the board, rotating the cob a quarter turn at a time until all the kernels are removed.).
In a medium bowl, toss together the pasta, corn, and tomatoes. Add ¼ cup of the vinaigrette and toss again.
Refrigerate the salad and the remaining vinaigrette in separate covered containers for at least 2 hours or for up to 2 days. Serve the salad chilled or at room temperature.
Toss salad with an additional 1/4 c vinaigrette just before serving. Taste and add salt and pepper as desired.
Spoon the salad onto lettuce-lined salad plates and garnish with basil sprigs.
Do as the Italians do and include this dish among an assortment of antipasti. Or you can serve it as a light lunch or as an out-of-the-ordinary accompaniment to grilled fish or chicken.