Orzo Pasta With Sauteed Vegetables
Chouny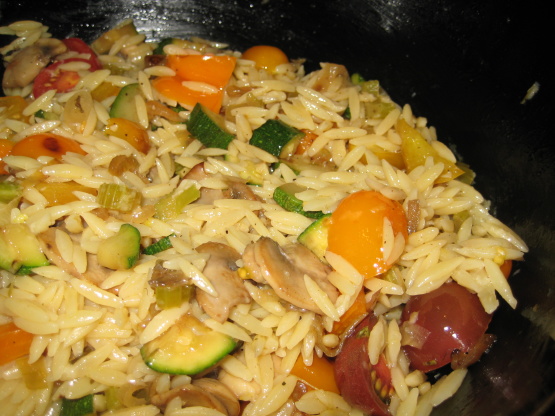 You can serve this pasta dish hot or cold which ever you prefer. Moist and delicious it makes a great side dish with chicken, fish or any grilled meat.

This recipe is so delicious, I made this for a diner party and the flavors are absolutely fantastic. Did not have zucchinis on hand but replaced them with green peas, still was great. I think that the combination of herbs de provence, parmesan cheese and lemon zests adds to the great flavors of this dish. Thanks for this great recipe will be making it agains for sure.
In large skillet saute all vegetables (except garlic) with olive oil until tender slightly golden. Add garlic saute for one more minute, reserve.
Bring chicken broth to a boil, add orzo pasta, cook for approximately 6 minutes or until al dente (soft but still with a bite left).
Drain pasta (reserve approximately 1/4 cup pasta water for later) and add to the sauted vegetables.
Mix in cheese, 2 tablespoons of olive oil, lemon juice and zests, salt, pepper and herbes de provence and finally mix in reserved pasta water, this will loosen the pasta and make it rich and creamy.
Serve cold or hot both ways are delicious.