Boomette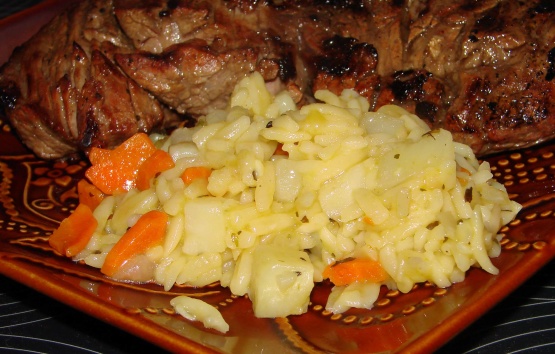 A nicely seasoned side dish which I particularly like as it has more substance than just orzo alone.
I like orzo recipes and this one is one of the best I tried. I used chicken stock instead of only water. The cooking method was perfect. After we finished eating, I noticed I forgot to add the parmesan. So I guess it would have made it even more yummy. I have leftovers, so we'll try not to forget the parmesan. Thanks FlemishMinx :) Made for I recommend tag game
Melt butter in a medium saucepan over medium heat; stir in the orzo and garlic and saute until the garlic is fragrant, about 30 seconds.
Add the potatoes, carrots and onion to the pan and continue to cook and stir until the onion and carrot become tender (5-10 minutes).
Season the mixture with the basil, oregano, salt and pepper (remember the parmesan will also add saltiness).
Add the water to the pan and bring to a boil.
Partially cover the pan, reduce heat to a simmer and cook about 12 minutes, or until the orzo is tender and the water is nearly completely absorbed (remove cover after 12 minutes if you need still to cook a good deal of liquid off).
Stir in the parmesan cheese and serve immediately.