Prep 30 mins
Cook 35 mins
This is a very delicious and nice way to use orzo. I love dates, chocolate, pistachios, and especially cream.
Directions
Combine orzo,water and salt in a saucepan and simmer 6 minutes.
Add sugar and milk and bring to slow simmer over low heat; stirring occasionaly. Cook uncovered until milk is absorbed. Cool, and add dates.
Preheat oven to 300 degrees.
Butter a 1 1/2 quart baking dish.
Whisk 3 egg yolks with cream and vanilla, combine with cooled orzo and mix well.Turn into baking dish. Bake uncovered until the edges are set, but still creamy inside, about 35 minutes.
While still warm, sprinkle top of pudding with chocolate and pistachio.
Serve with a dollop of yogurt.
Most Helpful
This recipe sounded so scrumptious to me that I was very excited about reviewing it. However when I started to make it, I found that it said to use egg yolks in the steps, but they were not listed in the ingredients. I spent a good bit of time researching similar recipes and decided to use 3 egg yolks, as you did use the plural word. I do not know, however, how close that was to what you intended. I also had to cook this longer than your recipe stated. I had to cook the stove top double what you indicated and the oven 15 minutes longer. We did achieve a recipe that we found very flavorful. We especially like the way the yogurt cuts the sweetness of the chocolate. I believe I would use a little less chocolate if I made it again. Also, you listed cinnamon in the ingredients, but did not tell where to add it. I whipped it in with the egg yolks - but again am not sure what you intended. If all ingredients/steps had been in, and were the way I did it I would probably have given this at least 4, perhaps 5 stars. With so much missing, I don't feel I can offer more than 3. This has lots of potential, so I look forward to seeing the recipe with your corrections.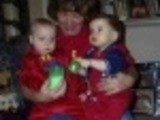 This was a very, very sweet pudding. I had a few 'technical difficulties' with this recipe. I wasn't sure approximately how long it would take after adding the milk and the cooking until absorbed. It took a really long time. I was getting a little concerned because it took so long...eventually we got there! The other problem was that step 5 refers to whisking some egg yolks, but they are not in the list of ingredients. I didn't have any on hand, so couldn't guess. As a result I didn't add any egg yolks and (I think) the pudding did not set properly.