Original Irish Cream by Todd Wilbur
BarbryT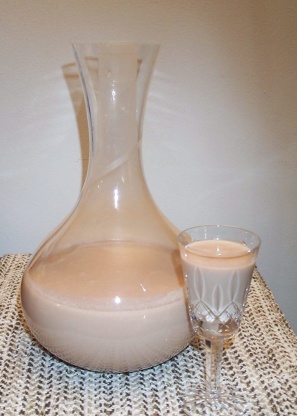 From Top Secret Recipes www.TopSecretRecipes.com. Irish whiskey mixed with cream and sugar with a taste of coffee, chocolate, vanilla and almond. What more could you ask for. Original posted by Mom at Allrecipes

this is a recipe that we have used in our family for many years and prefer this to bailys any day. most my family lokes to just sip it straight but i prefer it in my coffee. it is so creamy and good, this post makes me want some now. :) the only difference in my recipe and yours is i use light cream instead of heavy. it is so thick with the light cream, i can only imagine it is REALLY thick with the heavy. i use 1 1/2 c. of whisky and i also have increased the vanilla to 1 1/2 tsp. after making many batches. using this amount of whisky works out perfectly if you are making many batches, if i remember correctly 1-750 ml. bottle of whisky will make 2 1/2 batches using that amount.
In a blender, combine heavy cream, sweetened condensed milk, Irish whiskey, instant coffee, chocolate syrup, vanilla extract and almond extract.
Blend on high for 20 to 30 seconds.
Store in a tightly sealed container in the refrigerator.
Shake well before serving.
Will keep for 2 months if refrigerated.
Adapted from Todd Wilbur's book More Top Secret Recipes.