Original Birchermuesli (Swiss Muesli)
loof751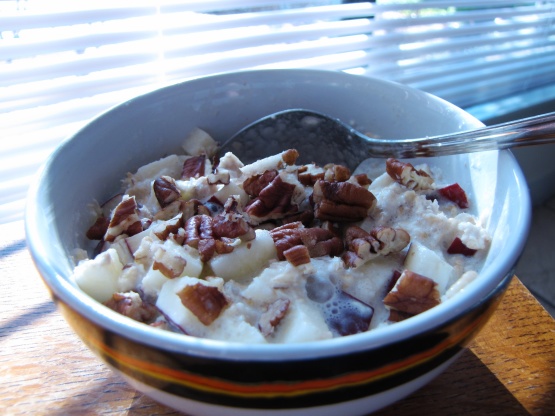 From "The Swiss Cookbook". The author says that it is supposed to be served as a breakfast or supper--not dessert--and that it "is a throwback to the old Swiss country habit of eating a cereal gruel with fruit and milk for supper because these were the foods on hand." She says that whole-wheat and other dark breads with butter are usually served with it. I haven't tried it yet. This is for one serving. Overnight standing time is not included. However, this can soak for only 30 minutes and still be great (even with old-fahioned oats).
Soak the oatmeal in the cold water until soft--like overnight -- or for 30-40 minutes at a minimum.
At serving time, stir in the lemon juice and condensed milk. Grate the apple directly into the muesli. Sprinkle with nuts.
NOTES: amount of water depends on kind of oatmeal used. Also, tho while instant oats don't have to be soaked as long, it's better if it's allowed to stand for 10 minutes.