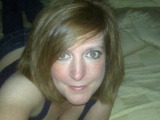 I'm not sure where this originally came from. It's been turning up at family parties and holidays for as long as I can remember. Cooking time is chilling time.
Directions
Mix together.
Chill and serve with raw fresh vegetables.
Very good with celery, mushrooms, carrots and cauliflower.
You may need to thin it with 2 tsp of milk after chilling.
Most Helpful
Got the recipe from daughter, Marilyn. She uses 4 teaspoons Teriyaki sauce, not Soy - also 1-2 tablespoons finely chopped fresh onion, to taste. It tastes good with surimi sticks (imitation crab).
This dip wasn't bad, but the flavor was subtle. I made it to go with a side of raw veggies that I served with Pad Thai. I was hoping for something with an Asian note to go with the rest of the meal. The flavor here was much like other mayo/vinegar-based dips, I've tried - not noticeably Asian-inspired. However, with such a mild flavor, children would probably enjoy it.
Very tasty with sugar snap peas, and with cheese and crackers. Consistency great without adding any milk. Thanks for the posting.