KateL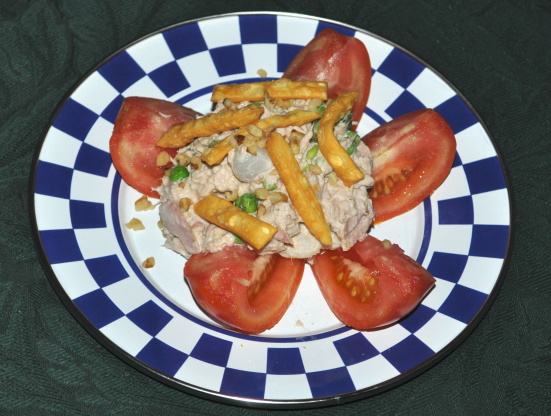 This recipe is scaled to take to a outing or a club meeting. From a hand written greeting card, signed R. King.

Top Review by KateL
The instant oatmeal was a first for me in tuna salad! It took discipline not to drain the tuna, but this method worked very well. We loved the water chestnuts and cocktail onions. The "cement" had too much mayo for our minimal-mayo preference, but the recipe allowed for adding additional oatmeal to resolve that issue; I chose instead to add another can of tuna and 1/3 cup more quick-cooking oatmeal to suit our preference. Next time, I would use half the recommended mayonnaise and then add more if desired. The "cement" was very tasty, too. I would be tempted to also add some more green, either from green onions, asparagus or green beans, and some red pimentos. Chow mein noodles weren't readily available so I used Chinese egg noodles instead; I think the called-for chow mein noodles would look better. I did without lettuce and used a wedge-cut tomato for presentation instead. I liked the almonds on my salad. DH chose to make tuna fish sandwiches, and he asked for this tuna salad again. Made for Summer Photo Tag.
Dump undrained tuna into bowl and mix with oatmeal. Let set about 15 minutes for the oatmeal to absorb the juice. Mix with veggies, mayo, juice, soy sauce and spices. If tuna appears to dry add a bit more mayo. If too moist add a bit more oatmeal. Chill overnight for flavors to set.
Just before serving add chow mein noodles. Serve on a lettuce leaf topped with slivered almonds.