3 Reviews
Very nice flavor! I marinaded the salmon for an hour, then piled the onion/ginger bits on top, and poured the liquid all around and baked it in a preheated 400F oven for 16 minutes. Tagged for Rookie Recipes (due 11/29 with extension).

This recipe packs a lot of flavor and uses ingredients that I almost always have on hand! It's super easy, too. I used a 1-1/2 lb. salmon fillet, which was perfect. Since it had the skin on, I did not turn it over during cooking, but it was fine. Thanks for sharing this delicious alternative for preparing salmon.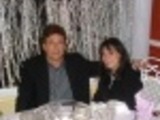 Outstanding!! This takes little time to prep/cook and the result is a very flavorful piece of salmon. I am the only one in my family that eats fish so when I want it I have to make another meal for everyone else as well; this is a good one to have on hand! I cooked DH/DSs dinner in the oven when it was done I turned it off and left it in to keep warm, flipped on the broiler and cooked this up in 8 minutes. Will be making this again and again, definite keeper! Made for Rookie Recipe Tag.
Oriental-Style Salmon Fillets