Oriental-Style Salmon Fillets

This is out of the "Everyday Cooking" cook book. Cooking time does not include marinating time.
Directions
Place the salmon fillet in a shallow non-metallic dish,.
Mix together the oil, soy sauce, honey, ginger, green onions, lime zest, juice and the seasoning.
Pour over the fillets and turn to coat.
Cover and marinate in the refrigerator for 30 minutes to 1 hours.
Lightly oil a baking tray.
Lift the fillets and green onion out of the marinade and place on the baking tray.
Brush the fillets with a little of the marinade, then cook for 3 minutes about 4-5 inches from broiler element on high.
Turn over, brush with more of the marinade and broil for 3-5 minutes until cooked though.
Garnish with lime wedges.
Reviews
Most Helpful
Very nice flavor! I marinaded the salmon for an hour, then piled the onion/ginger bits on top, and poured the liquid all around and baked it in a preheated 400F oven for 16 minutes. Tagged for Rookie Recipes (due 11/29 with extension).

This recipe packs a lot of flavor and uses ingredients that I almost always have on hand! It's super easy, too. I used a 1-1/2 lb. salmon fillet, which was perfect. Since it had the skin on, I did not turn it over during cooking, but it was fine. Thanks for sharing this delicious alternative for preparing salmon.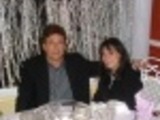 Outstanding!! This takes little time to prep/cook and the result is a very flavorful piece of salmon. I am the only one in my family that eats fish so when I want it I have to make another meal for everyone else as well; this is a good one to have on hand! I cooked DH/DSs dinner in the oven when it was done I turned it off and left it in to keep warm, flipped on the broiler and cooked this up in 8 minutes. Will be making this again and again, definite keeper! Made for Rookie Recipe Tag.